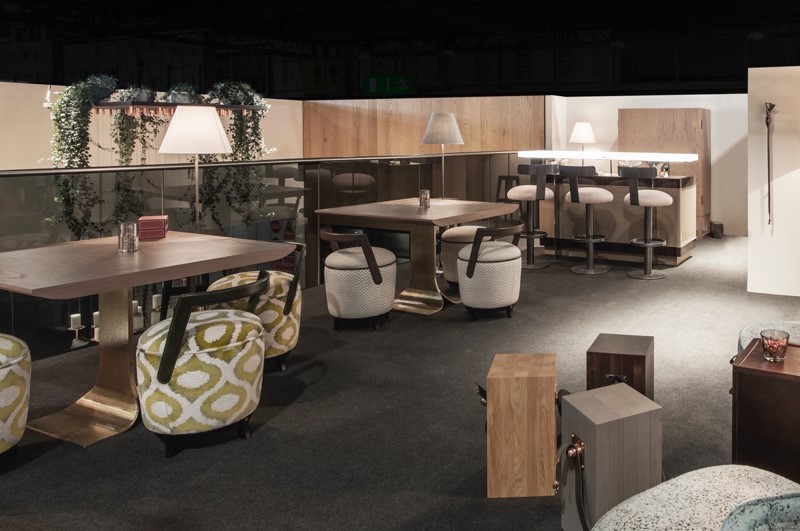 If you value exquisite furniture and enjoy a glass of wine or a cocktail from time to time, you would definitely like to have a bar unit from Bellavista Collection. Whether you prefer a quiet evening on your own or joyous parties, it will come in handy. Having a bar unit at home will give you a number of benefits. Here are just a few ones:
It's more convenient. With a home bar, you can enjoy a drink anytime without having to leave your home. This can be especially useful if you live in an area with limited access to bars or if you prefer to avoid crowded or noisy public places.
It's cheaper. Going out to a bar can be rather expensive. By having a bar unit at home, you can save money on drinks and avoid paying for transportation, parking, etc.
It is you who chooses the settings. Your home bar will be tailored to your personal taste and style, allowing you to create a unique and personalized space.
Your bar will become a center of each party. A home bar can be a great place to if you love socializing. It can also be a focal point for special events like holidays or celebrations. Also, it may stimulate you to learn more about different types of alcohol, mixology, and cocktail-making. You can experiment with new recipes and techniques, and even invite friends to join you in learning and exploring new drinks.
Bars from Bellavista Collection Will Suit Any Taste
Attilio Zanni, a brilliant product designer and the co-founder of Bellavista Collection brand, definitely loves home bar units. He designed as many as six of them, and these pieces of furniture belong to the core of the collection. Just look how diverse yet beautiful and convenient they are!
Named after the brand, BELLAVISTA bar unit is a real eye-catcher, so elegant its overall look is. You'll surely like the interesting design of its base and handle, made of brass with antique bronze finish. This material goes extremely well with any of the eight veneering options. It will be pretty difficult to pick only one out of ebony, grey sukupira, different kinds of natural and stained oak or American walnut. What is more, for grey sukupira or ebony glossy finish is available as an option.
Design of BELLAVISTA bar unit is a great combination of beauty and suitability – actually, it could be said about any item from this brand. The bar has two doors with spacious inner storage. The inner back of BELLAVISTA is decorated with a mosaic of bevelled mirrors, and the glass holder is made of top-quality belting leather of 'Cognac' color, decorated with beige stitches. If you wish, this bar will be equipped with touch activated LED lighting. Except BELLAVISTA, such systems are applied in ZEUS, HIM and TUDOR bar units.
Except LED lights, ZEUS and HIM have a few more traits in common. Both look elegant and strikingly beautiful, in spite of seemingly modest design. Both have the base and handles made of cast brass with antique bronze finish. This extremely versatile material is Bellavista's absolute favorite when it comes to metal parts. The outer structures of both bar units are made of solid wood and veneered with fine woods, with multiple variants to choose from – particularly, nine for ZEUS and five for HIM.
The inner back of both bars is decorated with natural stone: Calacatta marble is chosen for HIM, while white onyx plus bronzed mirror – for ZEUS. Besides, the inner side panels of HIM are covered with copper sheets.
As to one more bar unit, TUDOR, it surely justifies its royal name – at least many visitors of 2019 edition of Salone del Mobile in Milan agreed with this. This luxurious bar unit scored a great success at that trade fair and became extremely popular as soon as it became available to all from the brand's website. No wonder: TUDOR bar looks gorgeous indeed. By the way, it has a twin brother TUDOR jewel, which is a cabinet for keeping valuables.
The thick slab of natural onyx, backlit with LED lights at the inner back of TUDOR bar looks really gorgeous.  So do the decorative studs with bronze finish on the surface, the front parts of the drawers, padded in blue leather, and, of course, the optional cladding in stainless steel with satin brass finish.
Like TUDOR, TREE also comes in two variants: a bar unit and a cabinet.  What makes them look special is a smart combination of materials used for their front doors: natural wood with highlighted texture looks amazing at the background of Bellavista Nuances finish. Since the board is cut out of a real tree (walnut or olive ashwood) and carefully processed to preserve its natural beauty, you'll see an outline of a tree trunk on the front doors of both this bar unit and the cabinet.
If you opt for I BAR bar unit, you'll have plenty of choice. You'll be offered nine veneering options for the outer structure and much more variants (virtually dozens) for the finish covering its inner surface, which in its turn could be either matte or glossy lacquered. With such a number of available combinations, it will be extremely difficult to decide on just one. However, it gives you the opportunity to select one that you'll really love.
You'll certainly enjoy having a bar unit at home, whether you are an extravert or introvert. If you are a gregarious and sociable person, you can host parties, entertain guests, and socialize with friends. If you prefer spending your dree time alone, this bar will serve you as a private retreat to unwind, relax, and enjoy a drink alone or with a select few. For extraverts, a home bar from Bellavista Collection can provide a fun and social space to connect with others, while for introverts, it can be a calming and comforting refuge from the outside world.
Related Posts